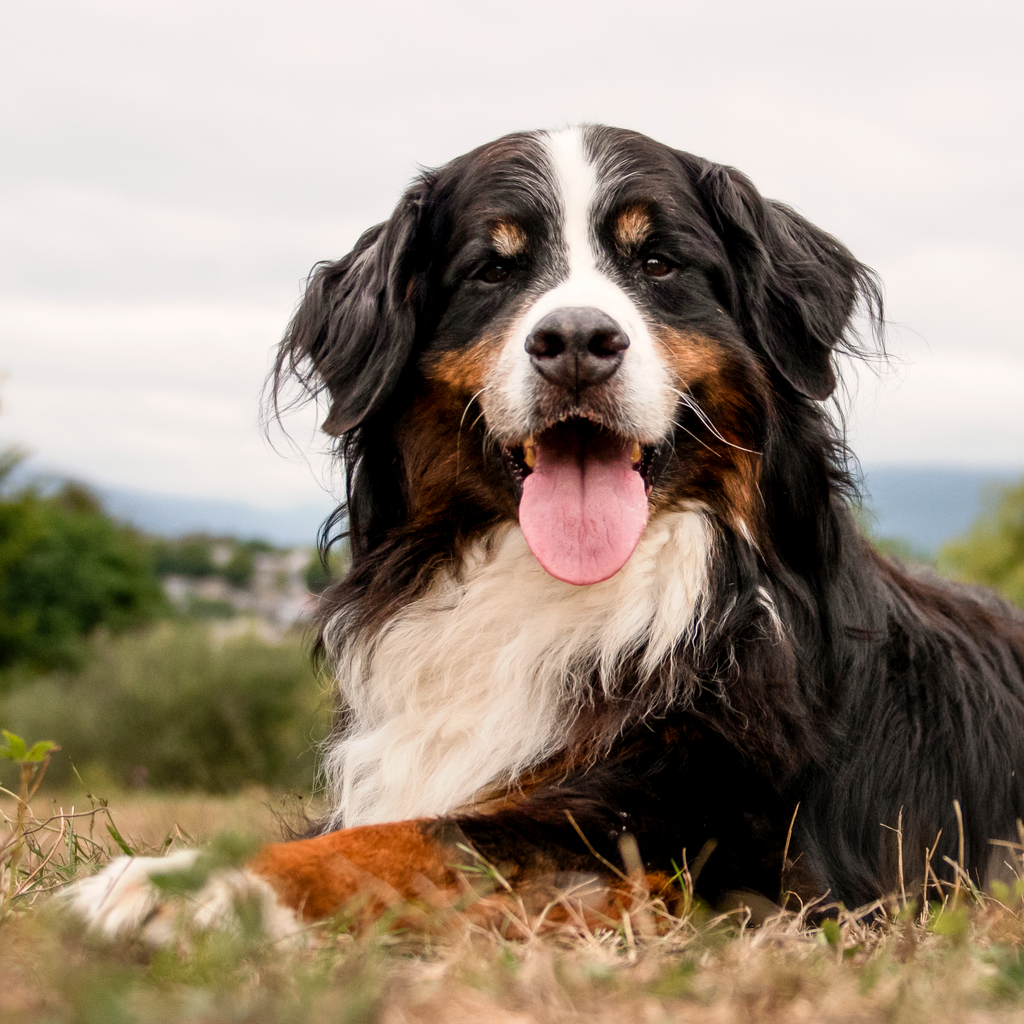 November 06, 2021
It's Bea's 1 year tripodiversary! This force of nature went in to Canada West Vet Specialists one year ago (Sept 18, 2020) to have her front right leg amputated. I had expected two weeks of us mostly laying on the floor as she learned to move around again… HA! As if. By day 3 the biggest hurdle was slowing her down. After 5 chemo treatments last winter, we decided not to go ahead with any further treatment for the small spots in her lungs. She has been going full tilt ever since, no signs of slowing down any time soon. What a girl.

To celebrate this milestone, we had a senior dog photo session with the amazing @shandandyourdogs last weekend. She took this lovely photo that perfectly encapsulates the exuberance that is Beatrix. It wasn't an easy photo shoot, due to Shandess being one of Bea's all time favourite humans—every time she tried to get Bea's attention to take a photo, she barrelled over for cuddles. And when I say every time, I mean EVERY. TIME. C'est la Bea.
Photo from our wonderful Elder Photo Session by the incredible photographer/dog whisperer Shandess!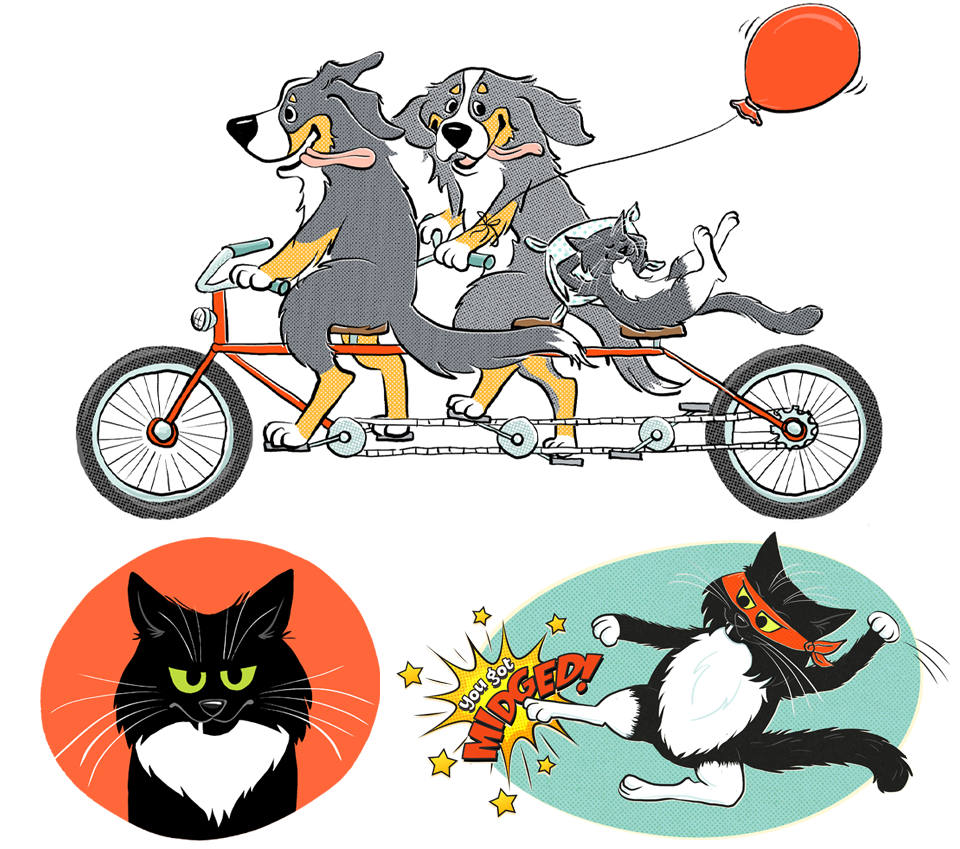 October 20, 2020
After many requests, I have made some Beatrix, Buster & Midge merch! Now you can wear Beatrix on your shirt, share your morning coffee with Midge, and bring all three of them along with you to the market. These items are available through
our shop on Society 6, click here to check them out!
Many of our followers generously contributed to our GoFundMe which helped cover mountings costs beyond what my insurance covered. Others bought items from an Amazon wish list, ensuring we got everything we need for the transition to tripod life! It has been so helpful, and has given me such peace of mind. Now with merch, it's a win-win: we get to refill the coffers, and you get some Midge-approved goodies. Thanks so much for following along on our adventures, and for caring so much about my crazy trio. I love sharing my life with them, and it's even more fulfilling being able to share their antics with all of you! 
Some of our classic Berner designs will be returning soon, along with Christmas items (including ornaments!) Stay tuned...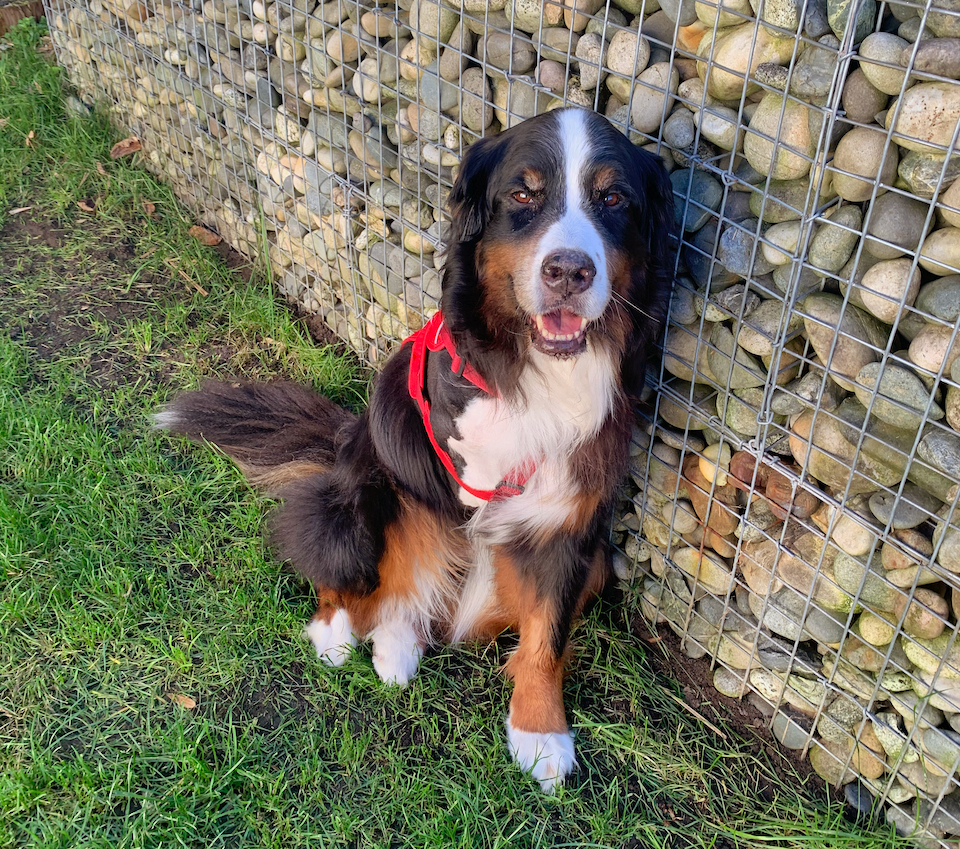 October 20, 2020
Bea lost her leg just over a month ago. I expected that by now, she would be able to walk a little, maybe start to attempt stairs. I knew she would do well and never doubted that she would make her way back to a fairly normal Beatrix-y life... but I never would have dreamed it would take about 10 days! She is now completely normal, doesn't have to stop and figure out how to do anything. She loves her walks like always. Things have gone so smoothly overall, and we are already all used to the Beatripod! 
She had a lump in her radius that turned out to be osteosarcoma. Fortunately, tests show it has not spread to the nearby lymph nodes in her leg, which is a great sign. Her other organs were all clear in an ultrasound just prior to surgery, so she is in a good position to live a fairly normal life for awhile. She begins chemotherapy on October 27th. This will help stop the spread of the cancer—even though the leg came off, it will have already moved into her body at a microscopic level, and chemotherapy will help ensure that it doesn't set up camp elsewhere in her body right away. The prognosis is vague as the outcomes vary widely, but it's not unheard of for a healthy dog undergoing this treatment to live 2 years or more. For a 9 year old Berner, we can't ask for a better outcome than that! Even if we have gained only six months, it will be entirely worth it. Prior to surgery I may have been more hesitant if it was likely to be only six months, but seeing how quickly she got used to her three-legged life, getting rid of that painful leg was absolutely the right thing to do. 
At some point I will write up a step-by-step timeline of how the last few months have shaken out for us, but in the meantime if anyone is facing a similar situation, please feel free to reach out. You can leave a comment here, or email me. I have collected a lot of story highlights in our Instagram that record our journey with photos and video, you can click on the "Beatripod" highlight link here.